Double Dip is a sherbet dip confectionary. Aptly named double dip for the two different flavours of sherbet that make up this iconic sweet. The sweet consists of a sachet of two sherbet powders flavoured with zesty orange and juicy cherry, with a 'swizzelstick' for dipping. The 'swizzelstick' comes as a chalky sweet stick used to lick and stick the sherbet powders to be enjoyed in a tongue-tingling fashion!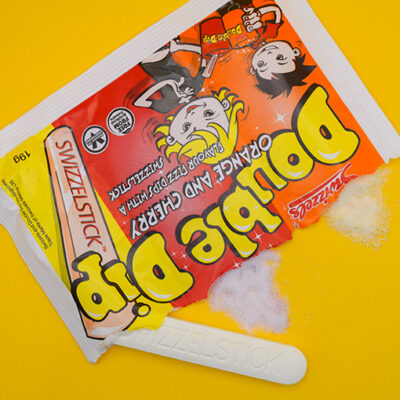 The small sweet stick is hard in texture and made through the same process as Fizzers and Parma Violets. The stick was made ultimately so you can dip the hard candy stick into the powders and then lick, suck or bite off the powder, almost like you would enjoy a lollipop. You can dip and then dip again, hence the name Double Dip!
Are you a single dipper, who enjoys one sachet of sherbet flavour at a time or perhaps you're a mixer, combining the two sherbets to enjoy a mixed fruity flavour that packs a punch?
Swizzles Matlow introduced Double Dip sometime before the 1980s. While it is full of sugar and bursting with flavour, it also has the added bonus of being both suitable for vegetarians and free of artificial colours.
Double Dip hit its peak popularity in the 80's primarily right here in the UK and Ireland as well as Australia, and Germany. This sherbet funtastic sweet hasn't changed its recipe since it's original release and continues to be made the same to this day! Occasionally Swizzles Matlow would release a new flavour combo or limited edition Double Dip but the original cherry and orange sherbet pack remains the most popular.