Flying Saucers are small classic UFO shaped sweets of sherbet filled rice paper. Settled in your mouth the outer layer dissolves on your tongue for a burst of tongue tingling sherbet fun.
There are plenty of different ways to devour a Flying Saucer. Some people like to dissect them by pulling the two halves apart before pouring the sour sherbet directly onto their tongue for that instant hit. While others love to bite off an edge and fish out the sharp powder using the tip of their tongue. And some of us prefer to put the whole thing in our mouths, and wait for it to dissolve into that nostalgic tongue tingling sensation. We'd love to hear how you like to eat your Flying Saucers?
Unsurprisingly the Flying Saucers gained popularity in the 1960s and 70s thanks to the Space Race and an increased interest in science fiction, but did you know they were actually first invented in the 1950s!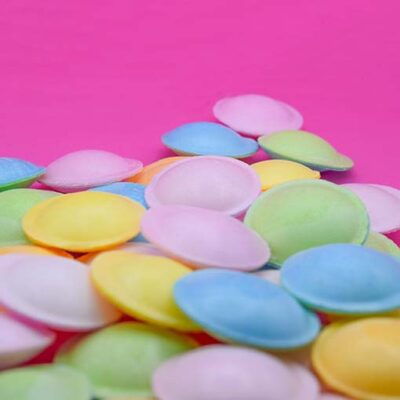 One of my earliest memories is of sharing a cone shaped bag of Flying Saucers with my sisters as we tottled around Chester Zoo. The colourful exterior and disc-like shape quickly stole our attention from the previously fascinating animals and so began the sibling debate on how best to enjoy such a delicious treat. Got any fun childhood memories to reminisce with us, we'd love to hear where you remember eating these sour sherbet filled sweets as a child?
Did you know? Flying Saucers were named the most popular sweet in the UK in 2004, with their tasty edible rice coating softening the inner sharp sherbet explosion. These sweets are a real blast from the past, their fizzy, sour sherbet giving them an exciting edge.