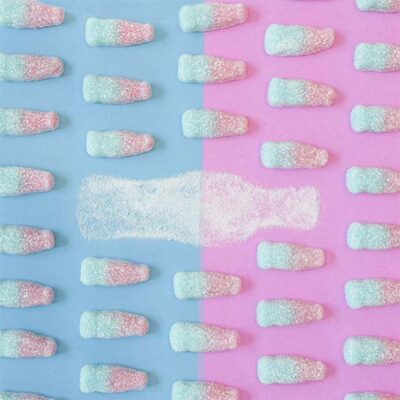 Funky, Flavoursome, Fizzy Bottles. Bubblegum Bottles are a yummy gummy sweet with extra fizz.
These funky pink and blue bottles have that delicious distinctive bubblegum flavouring as well as a fizzy sugary coating, making them a sweet treat to remember.
These pink and blue gummy bottles are a funky twist on the more traditional cola bottles. Chewier and sweeter than their original counterparts – these bubblegum bottles additionally pack quite the punch with their sour fizzy coating.
The bubblegum flavour was invented in 1926 by an accountant who conveniently worked for a sweets firm, lucky for us he enjoyed spending his freetime 'messing around in the lab'. Combine that with the fizzy sherbet coating and the sweet chewy goodness of these sweets and you have the delicious bubblegum bottles of today.
These sweets are positively moreish! Good luck eating just one… or two.