Anglo Bubbly is the ultimate 80s bubblegum! A chunky pink disc of bubblegum flavoured joy ready to tease your taste buds and be shaped into the best of bubblegum bubbles. Reminisce over those bright pink summer bubbles, as you twist open this colourfully wrapped sweet.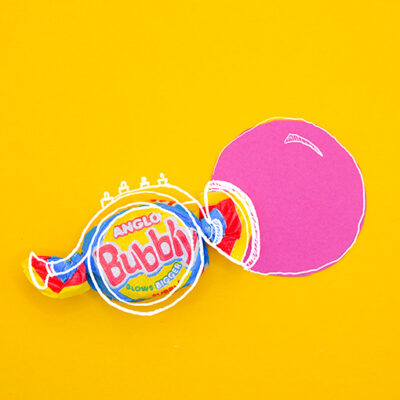 In 2004 a highschool student by the name of Chad Fell blew the world's biggest bubblegum bubble. It was recorded in the Guinness World Records, as coming in at a monstrous 50.8 cm in diameter. Now I don't know about you but I've certainly never achieved one that big, what's your biggest Anglo Bubbly bubble? The secret to his success – three pieces of bubblegum!
Did you know? The first bubblegum bubble was blown by none other than the inventor of bubble gum, Walter Diemer who used the novel experience of blowing a bubble as a way of garnering the interest of both kids and businessmen for his fun sweet. He then went on to travel and demonstrate how to blow bubbles as a marketing technique which turned out to be quite successful.
Here's our take on how best to blow bubblegum bubbles step by step…
Start by procuring some of our retro sweet Anglo Bubbly. It's delicious and chewable flavour makes it the perfect bubblegum sweet to chomp on
Chew, chew, chew!
Now flatten the bubblegum in your mouth using your tongue and palette.
Next lower the flattened gum around your tongue.
Finally, blooooooow away…
If you give it a whirl share the photos of your Anglo Bubbly bubble gum bubbles, we'd love to see them!