Sour Dummies are a gummy shaped dummy that are coated in a sour sugar, a wildly delicious and addictive combination. These bright colourful dummies are tantalisingly tasty and an explosion of fun to eat, the perfect pick and mix treat! Sour Dummies come in an assortment of fruity flavours and colours. A truly tangtastic and fizzy sweet, this old school favourite is loved by all!
Curious to know more about the process of making a sour fizzy sweet like Sour Dummies?
Or perhaps you'd rather hear about the history of 'sour' sweets?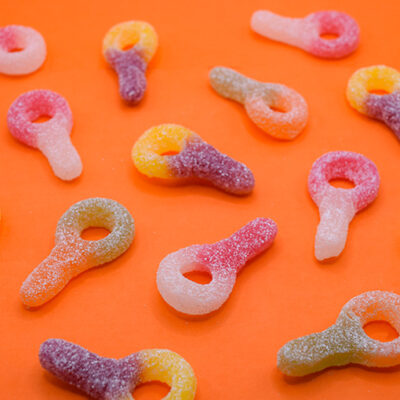 The key to all sour candy is through the combination of specific organic acids that build up that tartness. There are a variety of ways to make a sweet sour but all types of sour candy incorporate naturally sour ingredients into the candy. Some do this through the main body of the sweet while others like Sour Dummies contain mostly sweet flavours and are then dusted with an acid-infused granulated sugar to add that sour fizzy punch.
One of the earliest recordings of a 'sweet and sour' combination comes from China, a menu of the food served in Tang Dynasty festivals. This wasn't referring to confectionery but it is interesting to think that we have always found pleasure in sour flavouring to compliment the sweet. The first sour sweets themselves came out much later in the 1950's. It didn't take long for this new sweet category to rise in popularity, by the end of the 19th century, sour candy was a popular choice in sweets and well loved by the public universally.
One of the first sour sweets recognised today was 'Warheads', which were introduced in 1993. The founder of Warheads candy was Peter De Yager. While trying to invent a new sour candy – he travelled across the globe with the mission to find the sourest variety of candy which he eventually found in Taiwan.
Sour sweets explode in the mouth sending waves of fizzy sugary goodness to tingle every bit of our taste buds and cure any sweet tooth. So intense that it immediately connects and bonds with our memories, making that sour sweet truly memorable. Etching that childhood memory into our minds of how that extra kick of sourness has us wrinkling up our noses and squinting our eyes to the taste. A satisfyingly tongue tingling sweet.